Phone: 920.474.4738 ● Mobile: 262.385.6826
Service@MarineHarvesterParts.com
©2010 Marine Harvester Parts & Supply, LLC













MHP founder and owner, Phil Nogalski has amassed his experience and
expertise exclusively in the aquatic plant management industry. He has
worked with clients in a complete range of operating environments including:
• Freshwater
• Saltwater
• Brackish Water
• Tidal Areas
• Rooted Vegetation
• Floating Vegetation
• Emergent Vegetation
• Floating Trash
• Silt / Muck
• Oceans, Lakes, Rivers & Ponds
Unparalleled Industry Experience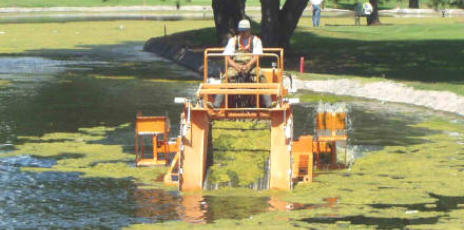 Phil has worked with a variety of clients including federal and state agencies,
cities, municipalities, lake districts, lake associations, equipment contractors
and private property owners. He has provided equipment owners with
training, support, and technical assistance in countries throughout the world
including:
• United States
• Canada
• Brazil
• Switzerland
• Egypt
• Germany
• South Africa
• Spain
• Argentina
• Mexico and Other Locales.
Based on his recommendations and experience, Phil's original concepts and
designs have been incorporated into many current harvester manufacturers'
equipment.
Contact Us for assistance with your lake remediation project.
Watch a Video
of lakes restoration equipment in action.
Need help with specific information or parts? Looking for the right
equipment for your specific needs? Click Here
Count on MHP to help diagnose equipment problems and recommend correct,
cost effective solutions.